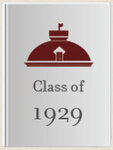 America Through American Eyes: An Exhibit Of Recent Books That Reflect Life In The United States On The 200th Anniversary Of The Making Of The Constitution = Amerika Glazami Amerikant︠S︡Ev: Vystavka Novykh Knig Otrazhayushikh Zhizn V Soedinennykh Shtatakh V God Dvukhsotletiya Amerikanskoĭ Konstitushii
Learn more about this work.
Description
This work features an introduction by James A. Michener, Class of 1929.
This paper has been withdrawn.