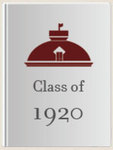 Rex Et Regina Vs. Lutherland: Being A Facsimile Of A Pamphlet Printed And Sold By Will. Bradford In Philadelphia In The Year 1692 On The Tryal, Condemnation, Confession And Execution Of Thomas Lutherland
Learn more about this work.
Description
This work features an introduction and comments by Joseph S. Sickler, Class of 1920.
This paper has been withdrawn.