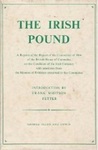 The Irish Pound, 1797-1826: A Reprint Of The Report Of The Committee Of 1804 Of The British House Of Commons On The Condition Of The Irish Currency
Learn more about this work.
Description
This work features an introduction by Frank Whitson Fetter, Class of 1920.
This paper has been withdrawn.